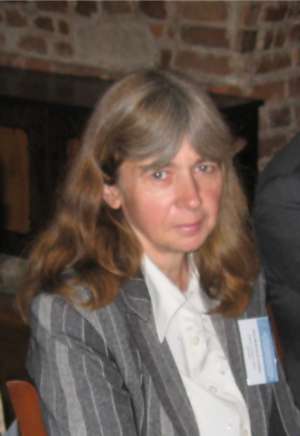 PhD. Iryna
Martynyuk-Lototska
Doctor of Sciences (2012)

Data of birth:
2 May1961
Lviv, Ukraine
Education:
1978-1984- Studying in the University of Lviv, department of physics (Specialities: Optical and Optoelectronic Systems).
Labour activity:
1984 - 1992 Engineer, Senior Engineer of the Lviv Branch of the Kyiv Scientific Research Institute of Hydro-instruments; (Department of the Optical Signal Processing.)
Since 1993 - Senior Engineer, Junior Scientific Researcher head of laboratory, head of group of optical materials of the Institute of Physical Optics;
2005 - PhD degree, dissertation - "Piezo- and acoustoopics of the radiation resistive BaB2O4, Li2B4O7 and CsLiB6O10 crystals"
2012 - Defense of the doctor's dissertation (Europe - Habilitation) - "Acoustooptical ferroics (phase transitions, crystalloacoustic and crystallooptic)"